Clinton Drug Store is Clinton's second oldest business and has been serving the area since 1895.
The current owner, Jim McBride, Pharm.D., takes a great deal of pride in giving customer service that is second to none. We understand the fact that as a customer you have choices in healthcare and we want to do what it takes to earn your business. You will be able to see from our website that we have many things to offer and are fully qualified to deliver the healthcare service you need. If at anytime you have questions or concerns please feel free to call and talk to one of our qualified staff.
MISSION STATEMENT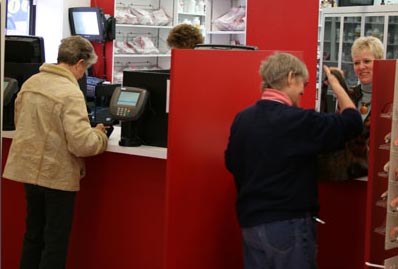 Clinton Drug Store's goal is to meet the home health care needs of our patients by providing the highest quality of pharmacy, prescription compounding alternatives, home medical equipment, supplies and services. We respect the rights of our patients, and are dedicated to providing responsive, timely customer service, while striving for 100% customer service. We ensure that members of our staff receive ongoing continuing education so that they are knowledgeable about the latest home health care products, proper fit and administration of prescribed equipment/service and are able to serve our clients effectively.
To be a place where customers want to come; a place that clinicians want to refer, and a place where people want to work.
Download RefillRx Mobile Today!
We also support RefillRx Mobile to provide you with a one tap solution for refilling your prescriptions. Simply scan the barcode on your bottle and watch as RefillRx Mobile sends your request to our pharmacy.

If a barcode is not available you can also simply enter the Rx number for your prescription and search for our pharmacy by entering:

Clinton - (865) 457-1421

Download RefillRx Mobile Today!


iPhone Link - Android Link
Daily Health Articles - Obsessive-Compulsive Thoughts - View More
Daily Health Articles - View More
WEDNESDAY, April 16, 2014 (HealthDay News) -- The jet stream pattern that caused the bitter cold and continuing snow in many parts of the United States this winter could become the norm because of climate change, according to a new study.
"If this trend continues, it could contribute to more extreme winter weather events in North America, as experienced thi... Read More
WEDNESDAY, April 16, 2014 (HealthDay News) -- Creamy butter or ice cream versus a crunchy granola bar: A new study suggests that the texture of foods influences people's dieting choices.
"We studied the link between how a food feels in your mouth and the amount we eat, the types of food we choose, and how many calories we think we are consuming," wrote study authors Dipayan Biswas an... Read More
WEDNESDAY, April 16, 2014 (HealthDay News) -- Extended and heavy menstrual bleeding during menopause is common, according to a new study.
"For most women in their 30s, menstrual periods are highly predictable. With the onset of the menopausal transition in their 40s, women's menstrual periods can change dramatically," study author Sioban Harlow, a Universit... Read More
WEDNESDAY, April 16, 2014 (HealthDay News) -- Folks on the West Coast are faithful followers of yoga and meditation. Midwesterners turn to chiropractors or osteopathic doctors for their aches and pains.
And nearly one in every five Americans uses herbal supplements like ginseng, Echinacea, ginkgo biloba and St. John's Wort.
Those are just some of the findings of a new federa... Read More
TUESDAY, April 15, 2014 (HealthDay News) -- Brain scans could help identify comatose patients who have the potential to wake up, a new study suggests.
Bedside tests are currently the standard means of trying to assess whether or not a comatose person will make some form of recovery. But up to 40 percent of patients may be misdiagnosed using these methods, experts say.
In th... Read More

Copyright © 2014 HealthDay. All rights reserved.