Clinton Drug Store is Clinton's second oldest business and has been serving the area since 1895.
The current owner, Jim McBride, Pharm.D., takes a great deal of pride in giving customer service that is second to none. We understand the fact that as a customer you have choices in healthcare and we want to do what it takes to earn your business. You will be able to see from our website that we have many things to offer and are fully qualified to deliver the healthcare service you need. If at anytime you have questions or concerns please feel free to call and talk to one of our qualified staff.
MISSION STATEMENT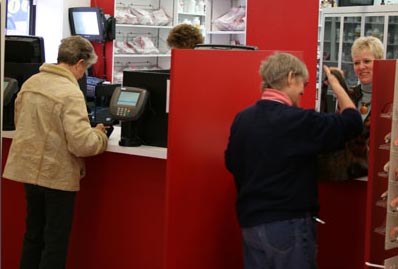 Clinton Drug Store's goal is to meet the home health care needs of our patients by providing the highest quality of pharmacy, prescription compounding alternatives, home medical equipment, supplies and services. We respect the rights of our patients, and are dedicated to providing responsive, timely customer service, while striving for 100% customer service. We ensure that members of our staff receive ongoing continuing education so that they are knowledgeable about the latest home health care products, proper fit and administration of prescribed equipment/service and are able to serve our clients effectively.
To be a place where customers want to come; a place that clinicians want to refer, and a place where people want to work.
Download RefillRx Mobile Today!
We also support RefillRx Mobile to provide you with a one tap solution for refilling your prescriptions. Simply scan the barcode on your bottle and watch as RefillRx Mobile sends your request to our pharmacy.

If a barcode is not available you can also simply enter the Rx number for your prescription and search for our pharmacy by entering:

Clinton - (865) 457-1421

Download RefillRx Mobile Today!


iPhone Link - Android Link
Daily Health Articles - Colon Cancer and Aspirin - View More
Daily Health Articles - View More
THURSDAY, April 24, 2014 (HealthDay News) -- Drinking more coffee might lower your risk for type 2 diabetes, a new large U.S. study suggests.
People who boosted their daily java intake by more than one cup over four years reduced their diabetes risk, while adults who drank less coffee in that time frame saw their odds for diabetes rise, the study of over 123,000 adults found.
...
Read More
THURSDAY, April 24, 2014 (HealthDay News) -- For kidney dialysis patients, having more muscle improves their ability to walk and benefits their physical and mental health, according to a new study.
It included 105 hemodialysis patients who were assessed for body-mass index or BMI (an estimate of body fat based on height and weight), waist size, mid-thigh mu... Read More
THURSDAY, April 24, 2014 (HealthDay News) -- The inner surface of your gastrointestinal tract is as large as a small studio apartment, or between about 100 and 130 square feet, according to a new study.
While that may seem impressive, it's much smaller than previous estimates that put it at between about 600 to 1000 square feet, or as large or larger than a tennis court.
The... Read More
THURSDAY, April 24, 2014 (HealthDay News) -- Vaccinations have prevented an estimated 732,000 deaths, 21 million hospitalizations and 322 million illnesses among U.S. children born in the last 20 years, according to a government report released Thursday.
Despite this success, measles -- a highly contagious disease -- is seeing a recurrence in the United States, the U.S. Centers for D... Read More
THURSDAY, April 24, 2014 (HealthDay News) -- Treatment targeting specific white blood cells in the immune system known as B cells may help people with multiple sclerosis (MS), new research suggests.
The study involved 231 people with a form of MS that's called relapsing-remitting. For these patients, there are times when their disease is very active. At other times, the condition beco... Read More

Copyright © 2014 HealthDay. All rights reserved.