Clinton Drug Store is Clinton's second oldest business and has been serving the area since 1895.
The current owner, Jim McBride, Pharm.D., takes a great deal of pride in giving customer service that is second to none. We understand the fact that as a customer you have choices in healthcare and we want to do what it takes to earn your business. You will be able to see from our website that we have many things to offer and are fully qualified to deliver the healthcare service you need. If at anytime you have questions or concerns please feel free to call and talk to one of our qualified staff.
MISSION STATEMENT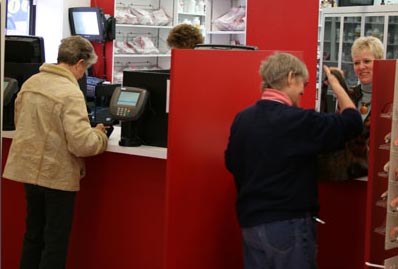 Clinton Drug Store's goal is to meet the home health care needs of our patients by providing the highest quality of pharmacy, prescription compounding alternatives, home medical equipment, supplies and services. We respect the rights of our patients, and are dedicated to providing responsive, timely customer service, while striving for 100% customer service. We ensure that members of our staff receive ongoing continuing education so that they are knowledgeable about the latest home health care products, proper fit and administration of prescribed equipment/service and are able to serve our clients effectively.
To be a place where customers want to come; a place that clinicians want to refer, and a place where people want to work.
Download RefillRx Mobile Today!
We also support RefillRx Mobile to provide you with a one tap solution for refilling your prescriptions. Simply scan the barcode on your bottle and watch as RefillRx Mobile sends your request to our pharmacy.

If a barcode is not available you can also simply enter the Rx number for your prescription and search for our pharmacy by entering:

Clinton - (865) 457-1421

Download RefillRx Mobile Today!


iPhone Link - Android Link
Daily Health Articles - Sleep Myths - View More
Daily Health Articles - View More
FRIDAY, March 7, 2014 (HealthDay News) -- Every day, millions of people with diabetes -- both type 1 and type 2 -- rely on the results they get from their blood glucose meters to guide their treatment decisions. But, what if those test results were wrong?
Recent research has found that even though a blood glucose monitor meets the U.S. Food and Drug Administration's standards for accuracy to . . . Read more.
FRIDAY, March 7, 2014 (HealthDay News) -- Anyone who needs to monitor their blood sugar can take some simple steps to improve their test results. These include:
Wash your hands before you test. It sounds simple enough, but it's a step many people skip or skimp on.
"Tests strips are essentially little labs on a piece of plastic," explained Dr. David Simmons, chief medical officer at Bayer He . . . Read more.
FRIDAY, March 7, 2014 (HealthDay News) -- People who've had nonmelanoma skin cancer are at increased risk for melanoma and other types of cancers, and this link is especially strong among young people, a large, new study contends.
Researchers analyzed data from more than 500,000 people with a history of nonmelanoma skin cancer who were followed for five to six years, . . . Read more.
FRIDAY, March 7, 2014 (HealthDay News) -- Sleep problems may surface for some after clocks move forward an hour Sunday morning for Daylight Saving Time because many people have difficulty changing their body clocks, a sleep expert says.
People's internal clocks tend to be programmed for longer than a 24-hour day and run a bit behind the time shown on clocks, said Dr. Steven Feinsilver, director . . . Read more.
THURSDAY, March 6, 2014 (HealthDay News) -- Texting while walking causes more -- although usually less serious -- injuries than texting while driving, according to an expert.
"When texting, you're not as in control with the complex actions of walking," Dr. Dietrich Jehle, a professor of emergency medicine at the University at Buffalo, said in a university news releas . . . Read more.

Copyright © 2014 HealthDay. All rights reserved.