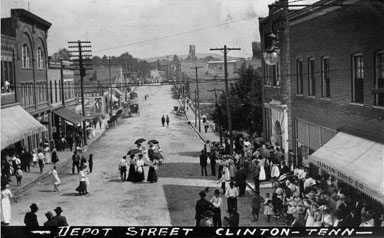 In 1895 local physician W.W. Medaris was issued a business license to open Clinton Drug Co. which he passed on to his son Glenn C. Medaris in 1921. During the ownership of the Medaris family, Clinton Drug Co. was located where the Park Hotel once was on the corner of N Collum Street and Depot.
Years later, the drug store was sold to Irwin Cross and Frank L. Margrave. Irwin Cross was the managing pharmacist of the drug store at that time. During their ownership, Clinton Drug Co. moved to Depot (now known as Main Street) and Jacksboro Street (now known as Market Street). Clinton Drug Co. almost went bankrupt while under the management of Irwin Cross due to regularly being in Knoxville instead of at the store. In 1938 Cross and Margrave sold the business to T.L. Seeber and Charles A. Haynes. Later that year Charles R. Alverson joined with Charles A. Haynes.
Two years later on July 8, 1940 Clinton Drug Co. became incorporated. Haynes and Alverson both had equal shares of 15 which were issued days later on July 11, 1940. Charles A. Haynes was president of the company while his wife, Wilma A. Haynes became vice president. Charles R. Alverson became treasurer. Alverson sold his share of stock to Charles A. Haynes on March 15, 1948 to pursue opening a store of his own.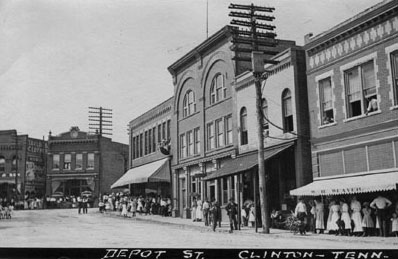 Due to illness, Charles A. Haynes sold the store on July 15, 1955 to Paul F. Smith and Lon E. Campbell. Both Smith and Campbell also owned equal shares of stock. Campbell was president of the company while Smith was vice president and his wife Elizabeth A. Smith became secretary/treasurer.
On March 31, 1971 Lon E. Campbell sold his share of stock to Paul F. Smith and worked for him until May 1st. Paul was joined by his wife Elizabeth also a pharmacist to operate the store. Paul became president while his daughter, Barbara J. Smith, took his role of vice president. Under the same ownership, Clinton Drug Co. moved to St Mary's Complex at 1107 Charles G Seivers Boulevard on June 1, 1988.
Three years late in June of 1991 the store was sold to Jim McBride Pharm.D., Fred Rowe Rph, and Ken Smith Rph. In 2002 McBride bought out Rowe and Smith and moved the store to its present location at 1130 N. Charles G. Seivers Boulevard.
The current owner, Jim McBride, Pharm.D., takes a great deal of pride in giving customer service that is second to none. We understand the fact that as a customer you have choices in healthcare and we want to do what it takes to earn your business. You will be able to see from our website that we have many things to offer and are fully qualified to deliver the healthcare service you need. If at anytime you have questions or concerns please feel free to call and talk to one of our qualified staff.
Mission Statement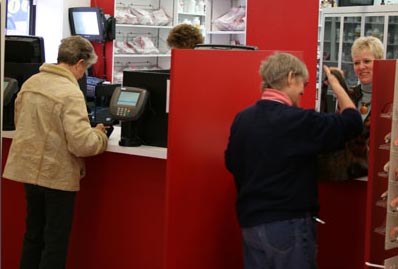 Clinton Drug Store's goal is to meet the home health care needs of our patients by providing the highest quality of pharmacy, prescription compounding alternatives, home medical equipment, supplies and services. We respect the rights of our patients, and are dedicated to providing responsive, timely customer service, while striving for 100% customer service. We ensure that members of our staff receive ongoing continuing education so that they are knowledgeable about the latest home health care products, proper fit and administration of prescribed equipment/service and are able to serve our clients effectively.
To be a place where customers want to come; a place that clinicians want to refer, and a place where people want to work.